1. Tempered Glass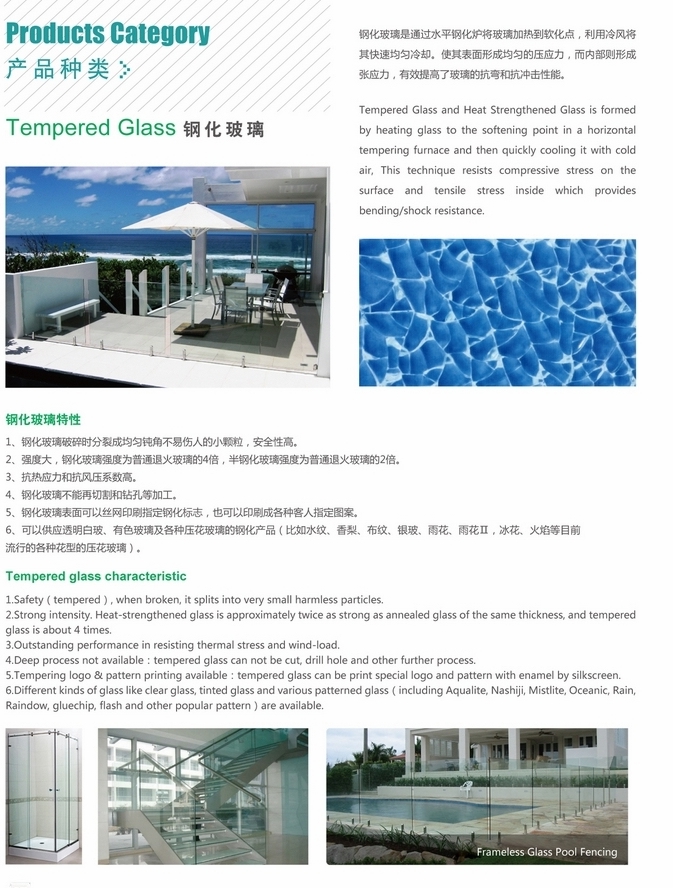 2. Heat Soak Tested Glas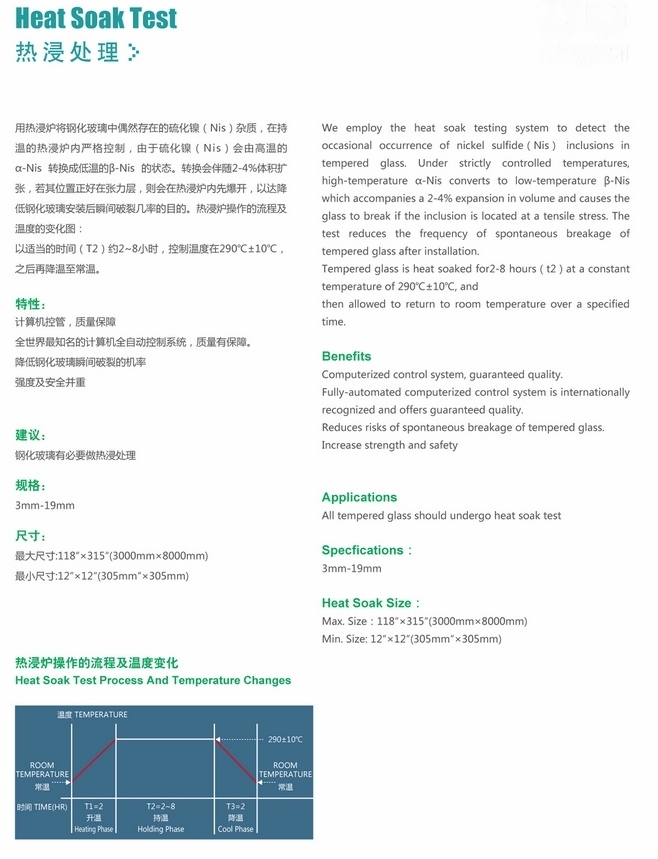 3.PVB or SGP Laminated Glass( sandwich glass)

Laminated Glass is a type of safety glass that holds together when shattered. In the event of breaking, it is held in place by an interlayer, typically of polyvinyl butyral (PVB) or SGP, between its two or more layers of glass.
Tempered laminated glass is normally used when there is a possibility of human impact or where the glass could fall if shattered. When broken by impact, tempered laminated glass tends to remain integral in its frame, minimizing the risk of injury from sharp edges and flying or falling glass particles, and strongly resists penetration by the impacting object or person.
* We have Australian certificate, AS/NZS standard; CE or TUV certificate and USA certificate, ANSI.
* Customized sizes and thickness are available.
Max. size 2440mmX11000mm, Min. size 50mmX100mm
* we can do hole drilling , edges polished well,various glass colors and PVB film colors are available.
Specifications
Glass thickness
3+3, 4+4, 5+5, 6+6, 8+8,10+10,12+12, 5+5+12,6+6+12 etc.
PVB &SGP thickness
pvb-0.38mm,0.76mm,1.14mm,1.52mm, SGP-0.89mm,1.9mm,

2.28mm

,3.04mm

Glass color
Clear, bronze, grey, green, blue ,customized color and patterns by silk-screen printing
PVB color
and type
Clear, bronze, grey, green, blue, yellow etc.
Normal PVB, Dupond Sentry Glass Plus (SGP), DG41 from Saflex…


Sekisui, Trosifol etc.

Glass type
raw float glass, tempered glass, refective glass,low E glass,Nano glass,color tinted glass,pattern glass etc.
Applications
Windows, doors, curtain wall, balcony, railling, partition, roof, ect
Form type
flat or bent /curved are available
Packing
wooden case or customized package.
Delivery time
7-15 days
4. Insulated glass
* Made by fusing together 2 panels, or 3 panels of glass spaced aluminum frame or warm edge frame, with dry air or Argon gas.
* It is with excellent sound proof and solar heat insulation and transparency property which greatly reduces thermal loss, extremely lows energy consumption and make building looks colorful and beautiful.
Specifications 供货规格
* Flat insulating glass Maximum size: 3500*2500mm Minimum size: 300*300mm Thickness: 14---60mm
* Bent insulating glass Maximum size: 3500*2500mm Minimum size: 500*300mm Thickness : 14---60mm
* aluminum spacer, stainless steel spacer and warm -edge spacer, color decorative spacer are available
Thickness 6mm,9mm,2mm,15mm,19mm,21mm etc
Various types of insulated glass are available
The unit can consist of two or three panels as the following
* clear, ultra clear,tinted green blue grey and brown,pattern glass, silk-screen glass( ceramic fritted) , acid etched glass etc.reflective glass, low-E glass, these types of glass can be tempered or laminated for insulating usage. *Magnetic venetian blinds
Special processing is available 特殊加工
* hole drilling * surface frosted or acid etched * HST( heat soak test)* half tempered( heat strengthened glass)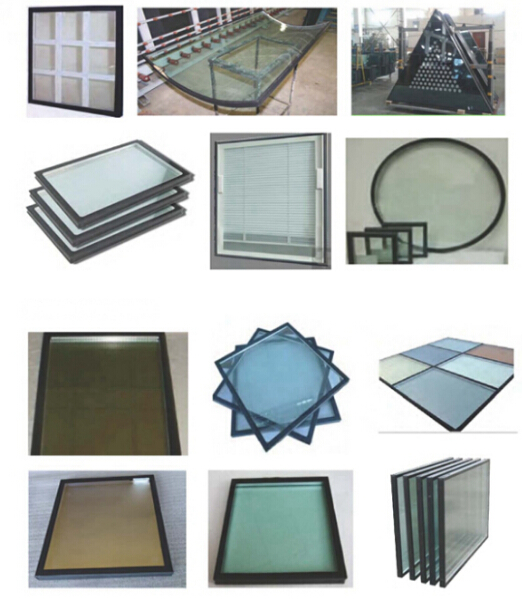 5. Silk-screen Printed Glass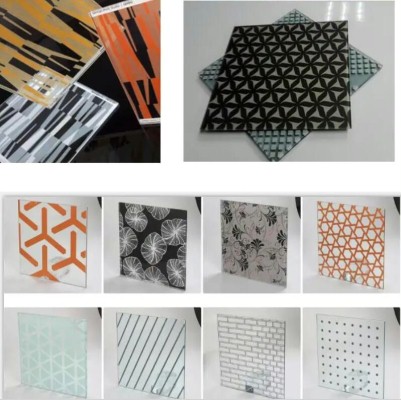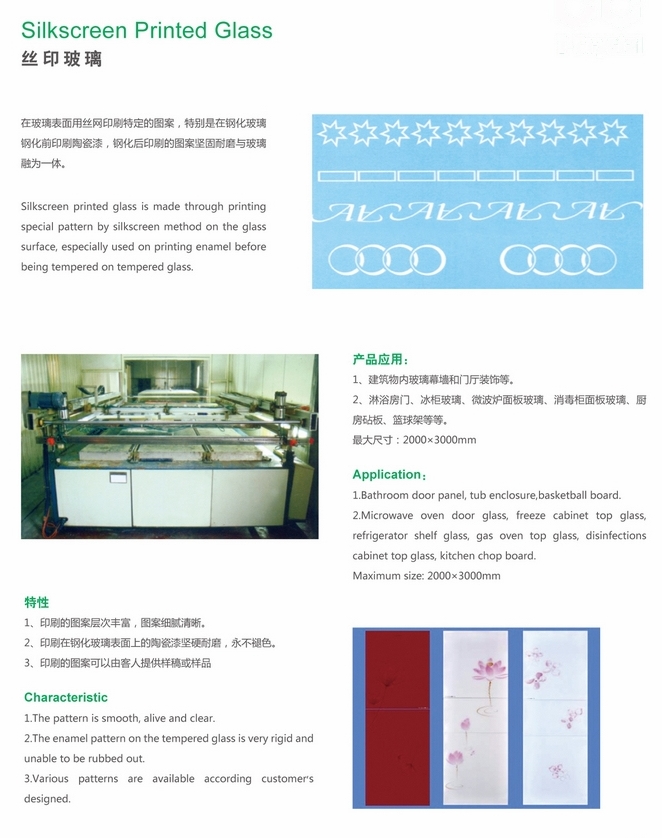 6. Magnetic controlling venetian & double glazed
It is insulated glass with magnetic controlled blinds, for your window,door ,partition assembling
1) 12.5mm width Venetian blinds with head and bottom rail
2) Internal Aluminum Frame
3) 5mm thickness Standard Normal tempered Glasses (low-E glasses optional)
4) Middle Vacuumed space and blowed into Argon for superior insulation
5) Endurable Magnetic Control System
6) Great sound insulation ,Superior heat insulation ,Energy Saving
7) Multi-angle Light Adjustment
the built-in blinds sheeet at any height can rotate by 180 degrees, of which the free adjustment functin can satisfy the user's demand for lighting angles
8 88) Elegant appearance,perfect for office and house partition or window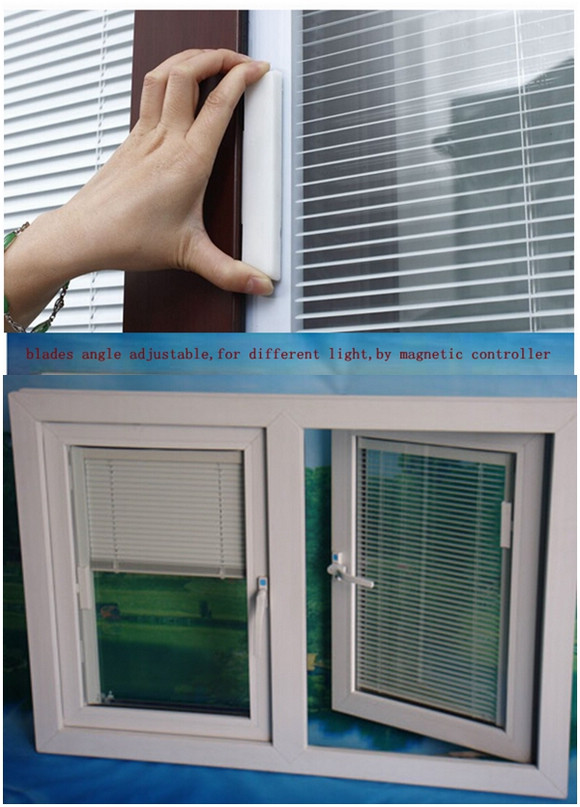 U-channel glass originates from Austria. It also be produced over 35 years in Germany .As one of the typical materials which are used on large-scale building projects U-profile glass is applied extensively in Europe and America. The application for U-profile glass in China is dated from 1990s.And now many areas in China use it for its international-based design trend.
U-profile glass is one kind of casting glasses .It's progress of forming in the computer-control smelting furnace enables it to keep excellent quality and precision. Its high mechanical strength enables it to be fixed on high-rise buildings and other buildings which need good lighting. And this can saves the buildings from extra vertical and horizontal underpinning. U-profile glass featured by its good lighting, heat insulation and preservation, sound insulation and noise protection----it's one of the new type environment-friendly and economical glasses.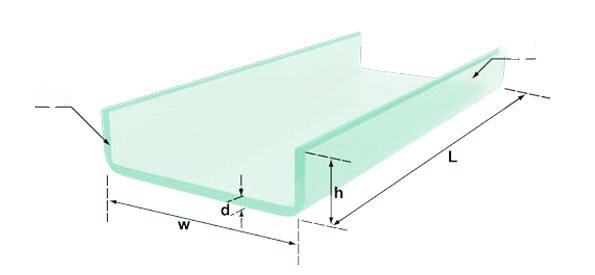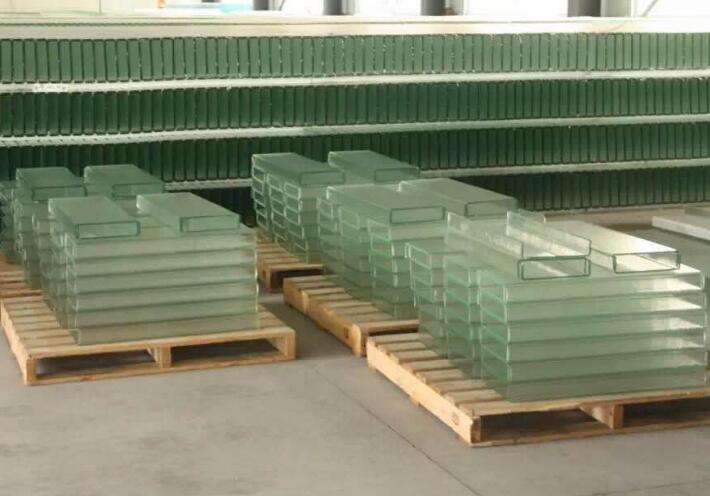 8. Fireproof Borosilicate Glsss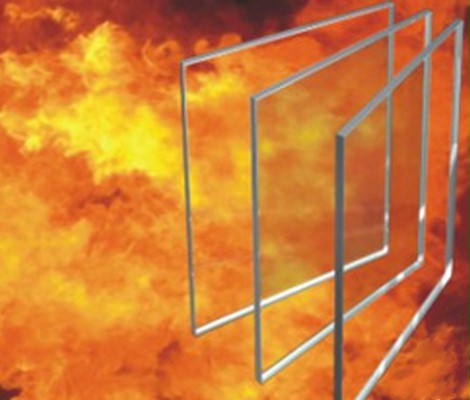 It is made up of about 15% boron trioxide, which is that magical ingredient that completely changes the behavior of glass
1. makes it thermal shock resistant. This allows the glass to resist extreme changes in temperature and is measured by the "Coefficient of Thermal Expansion," the rate at which the glass expands when it is exposed to heat. Thanks to this, borosilicate glass has the ability to go straight from a freezer to an oven rack without cracking.
2. makes it more clearer (with more than 95% light transmittance at 6mm thickness)than low iron glass
3. makes it 3 times stronger than normal annealed float glass
It can be processed further for the tempered glass,laminated glass,insulated glass,bent shape or color printed glass etc.
Our Tempered Borosilicate Glass with Fire Rating 2 Hours
Vacuum Glass
is made according to the principle of vacuum flask, which seals the circumference of two pieces of flat glass and keeps the space between them as 0.1-0.3mm with tiny props.Vacuumize the space to make the pressure reach 10-4Pa.Due to interior vacuum, the conduction and convection of glass nearly does not exist,thus it has superb function on thermal insulation,soundproof ,free of condensation etc.

10. Aluminum Window & Door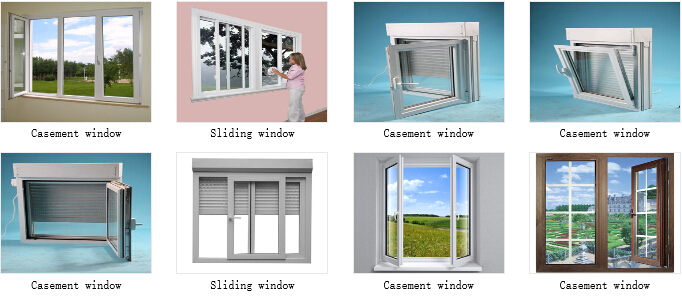 AAA1

9. PVC Window & Door 塑料塑料