Details
1 ***Description***

U-profile glass originates from Austria. It also be produced over 35 years in Germany .As one of the typical materials which are used on large-scale building projects U-profile glass is applied extensively in Europe and America. The application for U-profile glass in China is dated from 1990s.And now many areas in China use it for its international-based design trend

U-profile glass is one kind of casting glasses .It's progress of forming in the computer-control smelting furnace enables it to keep excellent quality and precision. Its high mechanical strength enables it to be fixed on high-rise buildings and other buildings which need good lighting. And this can saves the buildings from extra vertical and horizontal underpinning. U-profile glass featured by its good lighting, heat insulation and preservation, sound insulation and noise protection----it's one of the new type environment-friendly and economical glasses.

2. *** Specifcations***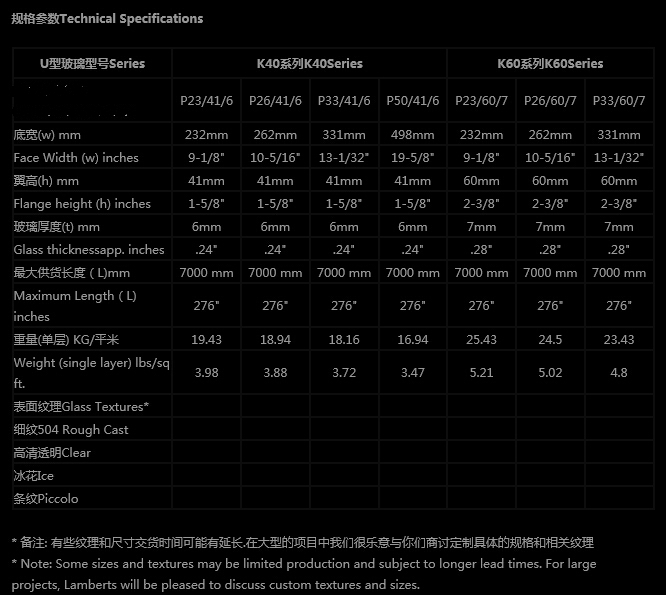 3. *** Glass Surface Textures & low iron ***
1) pear-grain
pear-grain - a hammered pearl or orange peel texture provides moderate translucency; features excellent light scattering properties.

2) Ice
Ice - an organic, heavily obscuring texture. Excellent for single glazed applications creating privacy or hiding views.
3) Clear
without pattern, offers a high level of transparency for a rolled glass. Please note, the optical qualities of rolled glass are fundamentally incomparable with the surface and transparency of float glass as the production methods are vastly different.
4)Low Iron
This glass is a special production made with raw materials containing a low iron composition. The resultant glass is almost colorless, displaying a slight greenish cast, and is favored by many architects.


4. ***Glass Coatings / Treatments***
1) Low-e
Restricts the flow of heat through the glass, thus retaining heat in winter and cooling in summer. Iridescent aesthetic.
2) AZURE
Enhances thermal/solar characteristics. Blue-gray aesthetic
3)Enamel Colors
Colored ceramic frits are fired at 650 degrees Celsius onto the back, inside face of the channel providing a colorfast, durable, scratch resistant finish. Available in a wide range of colors including a highly durable sandblast look.
4)Sandblast
Light diffusing, frosted aesthetic. A protective coating is applied to reduce fingerprinting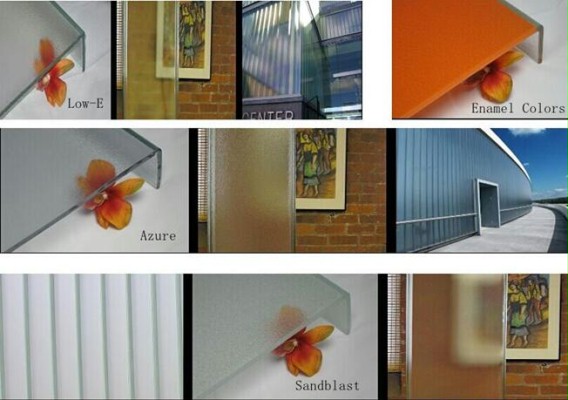 5. ***tempering & heat soak testing***
the tempering process for channel glass up to 20' long and constructed custom tempering ovens exclusively for tempering three dimensional channel glass. Their machinery, procedures, and experience yield dimensionally consistent glass.
Tempered channel glass is annealed channel glass that has undergone a second heat treatment in a tempering oven to strengthen the glass and raise the compression to 10,000 psi or greater. Tempered channel glass is three to four times stronger than annealed channel glass and is recognized by its break pattern - relatively small, harmless fragments. This phenomenon, called "dicing," markedly reduces the likelihood of injury to people as there are no jagged edges or large, sharp shards.